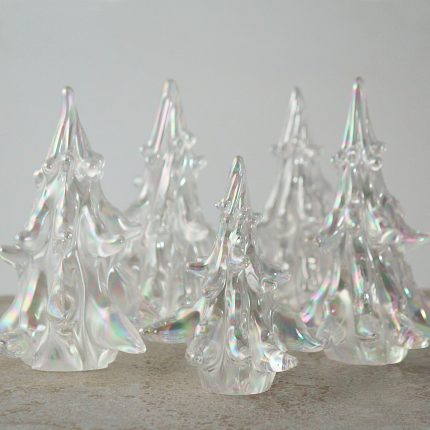 Sculpted by hand from solid lead free crystal, our trees stand approximately 5.5-6" tall.  Because we don't sell these through vendors, we can offer these as the lowest possible price for handmade items. You can buy direct from our studio and save.
Sculpted entirely by hand at our studio in Virginia, our small green trees stand approximately 5.5-6" tall.  No two are exactly alike!  They make wonderful gifts, and are sure to become heirlooms for the lover of all things Christmas! Signed and dated, comes with story card.
Crystal and Green Christmas Trees
Sculpted entirely by hand in our Virginia studio from solid molten glass, these clear crystal trees shimmer with rainbow hues, making them look like they have been coated with ice. Standing approximately 5.5-6″ tall, our trees are made from our spectacular water-clear lead free crystal. No two are exactly alike.
Designed with color families in mind, there is something here for everyone.  Scores of color combinations and we are adding new colors weekly!  Opaque, bright, and iridized, our ornaments have a lush and sensual look.  Blown entirely by hand in our studios in Virginia, made with love, let our glassy energy into your life today.  Give as gifts, each comes with its own story card and gift box.  We provide discounts for volume!  "Standards" are approximately 3.5″ in diameter and our "mini's" are approximately 2.5″ in diameter.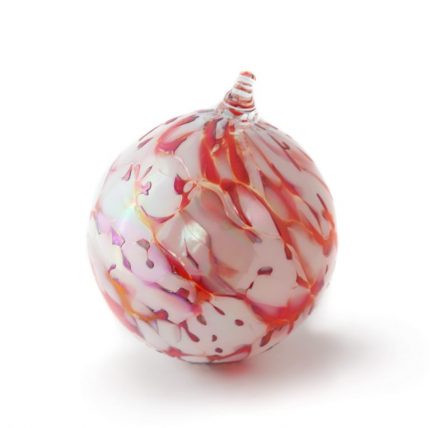 A fiery and festive combination of red. Iridized, made by hand by artisans who love what they do. 3.5″ diameter approximately. Comes gift boxed with studio story card. Each comes with our own unconditional satisfaction guarantee. Made entirely in the U.S.A.