Standing approximately 5.5 inches tall, these Christmas trees are sculpted entirely by hand in our Virginia studio.  The metallic sheen is not a coating but is part of the glass and as a result, the mirrored effect will not change or fade with time.  This color combination is included due to overwhelming interest from my followers on social media. You spoke, and I listened.  Each piece is signed and dated and comes with a story card. Silver blue Christmas trees stand at approximately five and a half inches and my customers say that it creates an ice-like effect.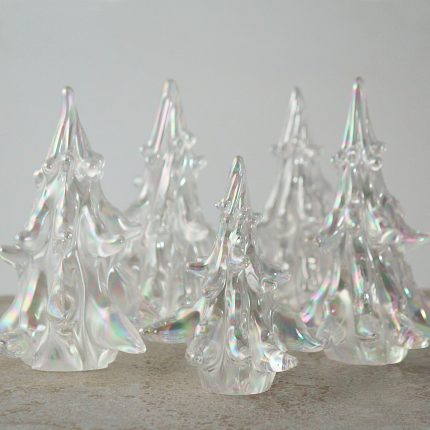 Sculpted by hand from solid lead free crystal, our trees stand approximately 5.5-6" tall.  Because we don't sell these through vendors, we can offer these as the lowest possible price for handmade items. You can buy direct from our studio and save.
Sculpted entirely by hand at our studio in Virginia, our small green trees stand approximately 5.5-6" tall.  No two are exactly alike!  They make wonderful gifts, and are sure to become heirlooms for the lover of all things Christmas! Signed and dated, comes with story card.