Large Gold Iridized Paperweight
The treasure of the mermaid realm has been found...
In this line, I have taken beautiful iridescence  and wrapped it around forms that speak in watery syllables. There are three distinctly different forms:  The
Anemone
, the
Anemone Twist
, and the
Shell
.  Made from solid glass, these pieces have a golden base with rainbow hues playing across their surfaces.  Made entirely by hand, there will be minor differences between each piece.  These are so beautiful you might need one of each.  Each one is the same mass of glass, but formed differently in the three forms.  Which is your favorite?
Approximately 4 inches in diameter or height (Shell is shorter but wider)
Solid glass
Signed and dated
Story card
Gift Boxed
Made entirely by hand in our studio in Virginia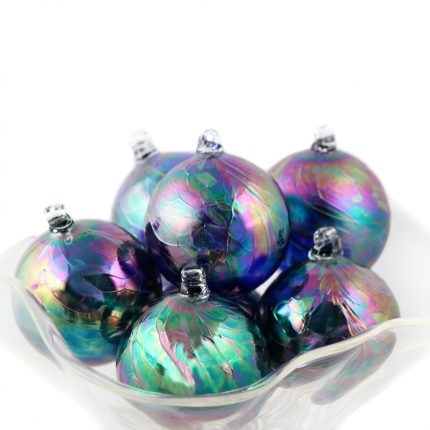 This new premium design features beautiful iridized colors which make each piece one of a kind.  Made by hand in our Virginia Studio, these pieces measure approximately 3.5" in diameter. Because we do not sell these items to vendors, you save by buying our work directly from us without unnecessary markups. Made in the U.S.A.On sale for a limited time.